24th Aug 2005
Google's wireless plans could kill commercial WiFi
According to Business 2.0, Google intends to enter the WiFi hotspot market in the US through a free ad supported model.
The hotspot initiative is an off-shoot from its move to lease its own fibre to avoid transport fees and to become a network peering partner. With all the bandwidth that comes with this, Google can also run its own hotspots in a very financially favourable way. Apparently Google is already supporting Feeva, a San Francisco free hotspot venture and may be involved in further rollouts. This is putting commercial WiFi providers in a potentially lethal position due to the increasing onslaught of free municipal networks on one side and free Google hotspots on the other. Commercial WiFi providers are basically squeezed in the middle and are condemned to wither away.
What's next? A licensed strategy could also make sense with another round of auctions in both the 700MHz and the Advances Wireless Spectrum, the US 3G spectrum in the 1700 and 2100MHz bands, both coming up in 2006. This way Google could realise its vision of making information universally available. Becoming a service provider would be quite a stretch for Google, but considering the billions of dollars Google could throw at the problem it could become a reality. The challenges would be daunting, ranging from running a wireless network, managing a handset portfolio, to distribution and customer service. None of these are areas where Google has a deep understanding yet. Depending on how Google can adapt to these challenging areas and how committed it is to the space, it could become a home run or could break the bank.
Roger Entner is the VP Wireless Telecoms for Ovum, covering market developments, technology trends and companies in the North American market. He can be contacted directly via roger.entner@ovum.com.
New uses for Blackberrys, PDAs soon
August 19, 2005
Excerpt:
Starting in September, Rosewood Hotels & Resorts will provide each of its guests with the new iQue M3 GPS navigator, spokeswoman Sonia G. Weymuller said. "The device also contains e-mail, Microsoft Word, Excel, Internet Explorer, etc., and enables guests to search restaurants and addresses and, thanks to an integrated speaker, gives voice-prompted turn-by-turn directions," Weymuller added.
Even teenagers are now starting to carry PDAs -- albeit modified for their demographic. Zipit Wireless Messenger has developed a portable instant-messaging device that allows teenagers to connect via "802.11 wireless home networks or free hotspots," said Mike Crisp, a spokesman for Zipit. This enables teens, and even some pre-teens, to "chat away with no service fee."
The future should be full of new PDA innovations, experts tell Wireless World.
Next year wireless carriers plan to introduce a number of new technologies including bandwidth-on-demand, instant replay, and real-time updating of pre-paid accounts. Bandwidth-on-demand will enable users to purchase high-speed downloads such as movies and load them onto a PDA before they board a plane for a cross-country flight. The instant-replay technology will allow consumers, watching a live sporting event at a stadium, to use their handhelds to connect to a stadium's wireless system and watch an instant replay of the spectacular play they witnessed. Those with pre-paid minutes will be able to update their services live without having to interrupt whatever they are doing on the PDA at that time.
Usage of the devices may grow exponentially with the new services. Right now, users are limited to e-mail and phone calls and still consume a lot of time. "I am a two-year user of Blackberry, and I average about 1,000 e-mail messages per month and about 4,000 cell-phone minutes," said Robert Cooper, vice president of sales at Haley Systems, based in suburban Virginia near Washington, D.C.
Copyright 2005 by United Press International
Smartphones: Where the computer and telephony cultures clash by ZDNet's David Berlind --
Excerpt:
This element of control over what can and can't be done with a smartphone (and even regular phones for that matter) and who gets to control that decision is ground zero for where the computing and telecommunications worlds clash. Synchronization frequency is just one very nuanced example of this control. The biggie that drives a lot of mobile warriors insane is upgrading their devices. For example, now that the new improved Windows Mobile 5.0 operating system is out, why can't I do with my smartphone what I've always been able to do with my computer — upgrade to it?

For starters (the first frustration), operating system (OS) upgrades for Windows Mobile-based devices aren't available the same way that OS upgrades are available for computers. Microsoft doesn't make them available at local computer stores or via download from its Web site. At the very least, you have to wait for the manufacturer of your Windows Mobile device to decide to support the new OS, and then to decide on what basis they'll make it available to you. But, in the event that the manufacturer of your Windows Mobile-based phone decides to support a new revision of the operating system, you still must wait for your wireless carrier to make the update available to you. In other words, you're beholden to the wireless carrier's timetable which could be tomorrow, six months from now, or never.

It's not difficult to imagine how disincented wireless carriers are to do non-critical software uprades (upgrades that users wish they could have but that don't correct some earth shattering problem on the device). If, for example, you hear about how great a new smartphone operating system is and you really have to have it, the wireless carrier knows that you'll probably buy a new phone if they drag their feet for too long when it comes to upgrading your existing one. And that's true. That's what I'd do. But I'd do it very begrudgingly, feeling as though I was up against "the system."

Palm and Audi Launch Seamless Automobile Bluetooth Integration




In a collaborative effort meant to enhance safety and convenience of consumers at the wheel, Palm, a leading name in mobile computing and Audi, a global automobile major, have launched a new generation of communications solutions. The solution offers a fully integrated hands-free calling solution and offers built-in Bluetooth short-range wireless support for the Palm Treo 650 smartphone, whether other Bluetooth capable devices will or can be supported is unknown. But the new communication features can be easily accessed by owners of the 2006 Audi A6 and A8 vehicles, they now can make and receive calls by using the car's MMI (Multi Media Interface) console, voice-recognition interface or steering-wheel controls.

The co-developers of the new solution are projecting it as a major innovation. "As the convenience of smartphones and wireless access continues to expand worldwide, an important next step was to integrate these technologies into cars in a way that places safety first. Now drivers can keep their eyes on the road and hands on the wheel, while using the Treo 650 to communicate with the outside world", says John Hartnett, Senior Vice President, Palm Inc. Adds Stephen Berkov, Director (Marketing), Audi, "We share very similar user demographics and leadership in design, technology and brand loyalty. In light of these similarities, we saw a special opportunity in the intersection of car and phone technologies."

With the Treo 650 smartphone, Audi drivers will have the ability to utilize the Treo 650's advanced calling features without ever touching the smartphone. With the Treo 650 smartphones built in Bluetooth technology, connections to your 2006 Audi A8 and A6 will be seamless and without the need for any additional hardware.

Browser on a gaming Device: Kawanishi Talks PSP Browser

Wednesday, 24 August 2005

Excerpt:
Beside HTML browsing, there are future plans for ftp or advanced email functions as well. "The email function is included but our main concern is how easy you can input your text. There are many ways of communications nowadays associated to the web. You have Text and HTML based e-mails, newsgroups, blogs, etc… We are searching for the right method to enjoy them. In PSP's case, it is not only about texts but also videos and music. So emails are only one way of communication on PSP."

Canon introduces Web Access software for multifunction devices




Excerpt:

July 24, 2005 Canon already the major player in the networked imaging solutions arena, but the latest move by the company is still an interesting one. The Canon Web Access Software Kit is the first ever Web browser to be designed to run on multifunction devices. Unique to Canon, the software allows the use of Canon multifunction devices (MFDs) as"information kiosks" that access and print information directly from an intranet or the Internet. This makes it ideal for organisations that have a significant number of staff who do not have access to PCs but who need to access forms, documents or information on the company intranet, such as in retail, logistics or manufacturing industries.

It will also be popular with universities, libraries and all classes of organisations where important documents are regularly updated on an intranet but where access to PCs may not always be available. As employees can access the company intranet direct from the device, frequently accessed documents like leave forms, contracts, maps and manuals can be printed immediately at the MFD. This provides the obvious benefits of not only speed of access and security but most importantly accuracy.

Nokia's Mobile Search and Mobile Service Consumption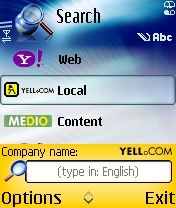 Excerpt:
If you have not tried this yet, you should, it is a very handy tool. Of particular note in my opinion is the local search functionality. This allows you to search for businesses in your local area (or an area you specify). You are provided with a list of results and from this you can do several things: dial the relevant numbers, add the number to your Contacts, and view a map with the location of the results pinpointed. Much of this information may be available via your Operator's portal, for example Orange in the UK provide a 'Where's My Nearest...' service. However, because Mobile Search is an application it is easier to use, it's faster in getting to results and it's better integrated into the phone. More than anything, Mobile Search demonstrates the power of the service type application when compared to its mobile browser equivalent.